MoneyBox

- Financial Management Software for Home, Professionals and Small Business.
Manage your money, control payments, project cash flow, administer budgets, and handle currencies all in one simple user interface.
Key features include:
Save, secure data storage.
Tailored reporting.
Spreadsheet generation.
Automatic data backup.
Easy installation.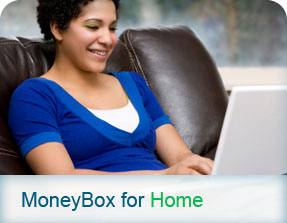 MoneyBox is the ideal solution for household and personal accounting:
Control your bills.
Budget for holidays.
Plan for the future.
Click here to learn more
Keep one step a head with MoneyBox for Professionals:
Track Expenses.
Issue Invoices.
Handle value added and sales tax
Discover more here
Stress free accounting for small business using MoneyBox:
Multiple users.
Sales Ledger.
Monitor business performance.
Find out more here
FAQ
How much does MoneyBox cost?
MoneyBox costs €30 and is a leased software product. The normal lease is for one year's use. During the lease period you will receive full product support.
Will my data be safe?
Absolutely. The data you accumulate in your usage of MoneyBox and WebSafe is stored in your own storage. MoneyBox data can be encrypted if you choose that option. WebSafe data is always encrypted.
If you share any of this data with us so that we can provide technical support, we store this data for a maximum of two years as a last resort backup for you in the event of catastrophic data loss on your own system. This data is held in encrypted storage and will be deleted immediately if you request it. Under no circumstances is this data shared with any third party for any purpose.
We also hold the contact data you give us when you purchase a PIN for our products. This data is held in encrypted storage and is not shared with any third party for any purpose.
Can I convert data from my existing accounting software into Moneybox?
Yes you can. It's easy to migrate data into your MoneyBox software. In fact, for software such as Quicken® it can be done automatically.
I live outside of the UK, can I still download MoneyBox?
Yes, Money box is a global accounting product, with over 100,000 users in 50 different countries.
Testimonials
MoneyBox can help you keep track of your cashflow with the help of graphs. It also handles accounts in foreign currencies and will download data from online bank accounts and from other personal finance programs such as the nowdefunct Quicken. The Daily Telegraph
One of the easiest financial management programs I have ever used. consumerist.com
Read more testimonials here...